So a few weeks ago I painted the first released team of Roller Derby Girls from Impact! Miniatures.
I'll be the first to admit I didn't know the first thing about Roller Derby. Well, not the first thing after the obvious: it's roller skates, women, there is some smashing involved, and it's a Derby.. which I believe is a hat of some kind ;)
I know it's typical for many of the women to have tattoos and punk or rock-a-billy style, which is awesome, but for the first set I wanted to paint them in a more clean-cut style, so it'd be easier to see the miniatures themselves and establish a 'base' from which the next two teams can build upon, to explore painting in some of those style choices. Which should be great fun, and should be done soon too! So watch this space if you're curiosity is piqued!
I haven't had a chance to try out the rules to the game yet, but look forward to doing so.
For the miniatures I was very impressed with the sculpts. Anatomically well done, without the things common in a lot of fantasy sculpting, like hands the size of heads. The bodies are single cast, with separate heads. There is not a lot of extraneous detail, which is ideal. These minis give you a lot of possibilities to paint them in any colors and patterns you'd like. I can imagine many different teams looking unique just from this one team release, and that's without considering the two others coming up.
It's also a nice size project: just 5 miniatures for a team! Well, on to more pictures..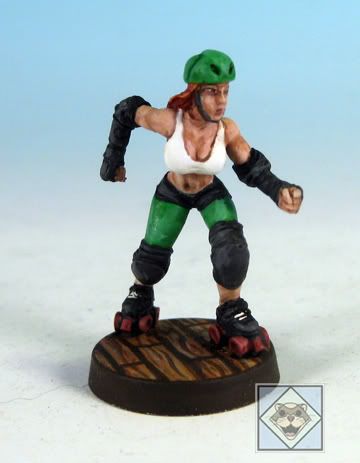 if interested, you can get the team at
Impact! Miniatures
It's a different kind of Rolling, but enjoy it nonetheless!