Time flies. I was very surprised to realize it was almost a year ago that I did the first review of a War Rocket faction, the Zenithians. I still have to do a full review of the Pirates, but at the moment, let's take a look at the signature fleet, the Galacteers from
Hydra Miniatures
.
The Galacteer faction is the shining protagonist of the setting: Earth's finest, protecting our planet from the multitude of dangers in space. In design they show their evolution from Earth's aircraft. They are the second most maneuverable fleet in the game, outclassed only by the Zenithians, but they're a bit sturdier than Zenithian. The Galacteers seem a good fleet for someone who enjoys flexibility of movement over a 'stand firm and exchange punches' style of play but without being a complete 'glass cannon'.
I bought the fleet pack deal, which comes with 9 Class I rockets and 3 Class II rockets.
While I do have 'full' fleets including Class III & IV rockets for Zenithian, Imperial & Pirates, the Galacteer and Valkyrie fleets I've only bought the intro fleet deals.. for now.
Opening the pack and arranging the parts, this is what we find.
The Class I rockets are single cast, and the Class II have separate dorsal and ventral fins. Unlike some of the other fleets, there isn't any easy tell by engines or fins to identify the classification of the ships, but the size differences are distinct.
Unfortunately I did find a few casting errors in the set. Here are two Class I rockets, with the one on left hasn't had the nose filled completely. I had to use green stuff to build it out.
A miscast thruster pod on a Class I wing. Again, repairable, but still regrettable.
The flight stand attachment works the same way as the other fleets: the hole is bigger than the stub on the flight stand, best to cut the stub off, and attach with a bit of green stuff to get a tight fit.
As seen on the Zenithians:
Just for added balance on the table I add weight to the base by gluing in extra metal from cut bases and tabs of other miniatures. Save everything and you'll find uses for it.
And the fleet is assembled:
I have used a few taller flight stand stems from GW kits, to give some height variety.
I don't have any Class III or IV rockets for this fleet yet, but they look like this: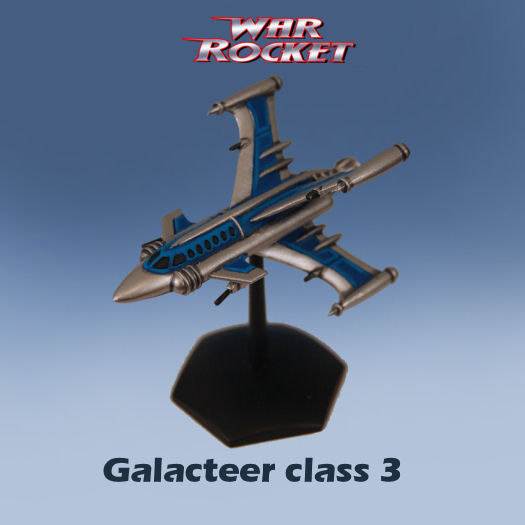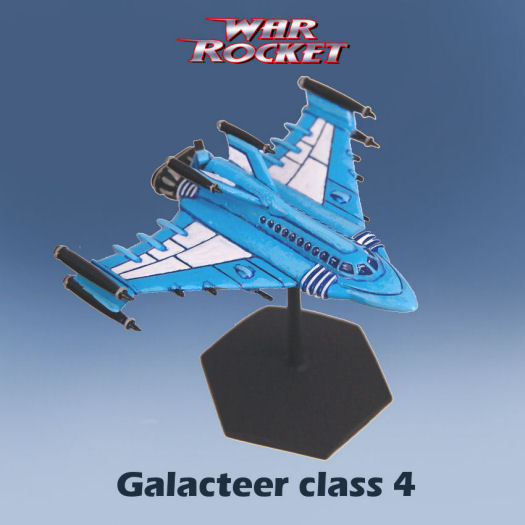 Eventually, since I'm a completest, I'd like to have higher Class ships for this fleet than just the I & II, and Hydra Miniatures did just have a sale, and I was very tempted. I am still indecisive though,because I really do like the Class III (teh 'X' wing design is quite cool) but not crazy about the Class IV for some reason.... the wide hull loses the aesthetic to my eye. And since I have three fleets that have Class III & IV rockets, I'd realistically need the same for Galacteer and Valkeeri, but I'd rather have two Class III Galacteers than a Class IV... so would that mean I'd be ordering a Class III & IV for Valkeeri and three Class III for Galacteers? That started adding up to more than I can spare at the moment... especially when I wanted some of the Retro Raygun and little plant aliens too. So I'm holding off on the higher class rockets for these two fleets for now.
I have in mind to run a multi-scale game at a game con next year, where each player would command a small fleet of ships, all trying to race to, and prevent others from reaching, a planet to send down a small strike team to obtain an ancient artifact. The game would have space combat as well as warrior vrs warrior action on the planet surface. Different human, alien and robotic factions in a free for all.
So I'll be painting the Galacteers up as squadrons in accent colors of Blue, Red & Green with a Class II and three Class I rockets each.
Additional Uses:
It's always useful to consider what additional uses miniatures you buy might have, beyond your initial intention. The Class I rockets would make nice 'near future' fighter aircraft for example, and would work well in a game like Epic 40k. The Class II rocket would make an ideal 'Luxury liner' in any space combat game. With all the round windows down the side, looking a lot like a passenger jet or cruise ship, it could easily stand in for a civilian space liner that needs to be protected (or raided) in any spaceship game, like Battlefleet Gothic, Full Thrust or Firestorm Armada.
So how do I rate the Galacteer fleet?
Rating:
Casting: 7/10
Cleverness of design: 9/10
Aesthetics: 8/10
Thanks for reading!
Enjoy!