I love miniatures. Pretty safe bet that you do too if you're reading this.
But I also love when you find something that isn't intended to be a gaming miniature and you find a purpose for it in a minis army. It's that feeling you get when you get change and discover one of the quarters is old enough that it is solid silver.
A "whoa, what's this?" reaction. Fun Stuff.
So I picked up a star wars space ship on the cheap and think it's going to be the perfect centerpiece for my Droid army.
Some of the first 15mm sci fi minis I got where little drones, droids & robots... mostly from GZG, from my first order with them when I was testing the waters of 15mm sci fi and realized how inexpensive these little machines are. Why not have a fully robotic army? Kind of a Skynet 001 idea. So I picked up many flying drones, wheeled drones and a few reaper chronoscope robots and had a good sized infantry force. But as I add vehicles to the other forces, the question became 'how do the droids keep up with the Joneses?"
Here is how: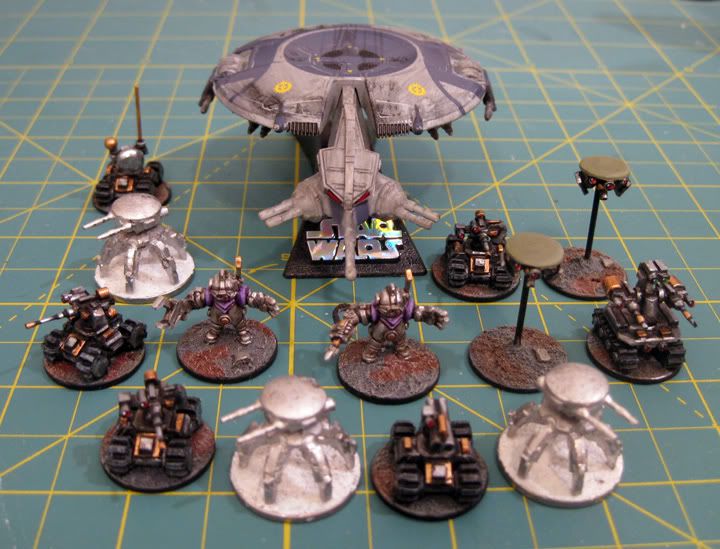 I will be giving this a new base of course, this is the ship straight out of the package.
In the foreground are some GZG spider drones. I have 9 more of these coming too.. I think they are brilliant.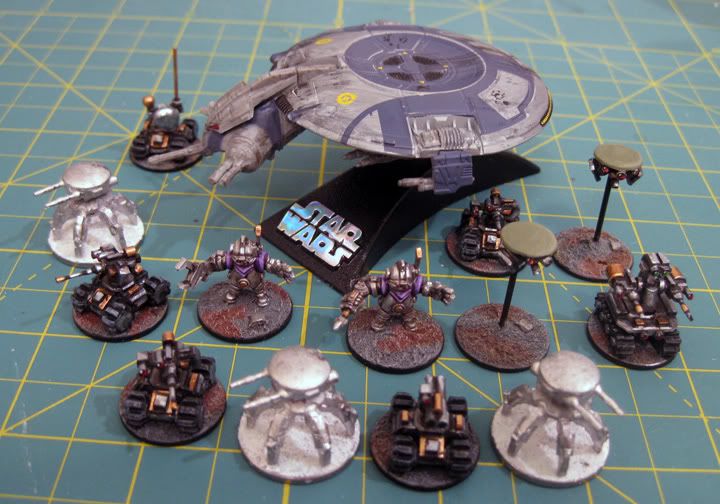 I think it works great in 15mm scale as an anti-grav tank.
Here it is with the GZG Bulldog for size comparison: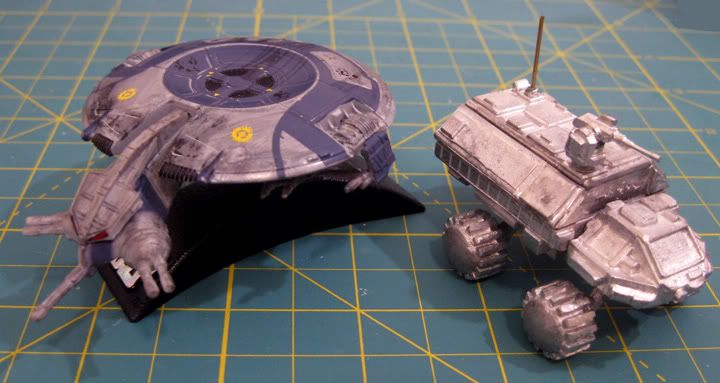 This should be a fun robotic army.
In the Planets in Peril setting this will represent the 'Terranauts", the artificial intelligence denizens of the asteroid belt. Early in their development they mined their planet until it broke apart. Undeterred they continued to mine and expand their numbers. Until recently their presence was enough to keep the Jovian Lords out of the inner planets, since they are immune to the psychic attacks of these beings, but for reasons unknown the Jovians have now begun to seep into the realms of the inner planets.
(Insert maniacal evil laughter here).
Now, Binary Solo: 0000001, 00000011...
Anyone else have any cool finds of toys & what-nots for 15mm sci fi?