Bullets zipping, shells booming, how is a young Quar who'd like to keep his head unperforated expected to get to the enemy trench line? Why not ride in style in your own personal Light Tank?
The Fifth Mechanical Corp of the Royal Phobosian Light Expeditionary Brigade are pleased to report that B.I.D.B.I, or 'Bidby', the Break It Down/Build It of Solar Sail Transport Vessel 2, Stage 3 is complete and two Light Tanks are ready for service (or will be once they're painted).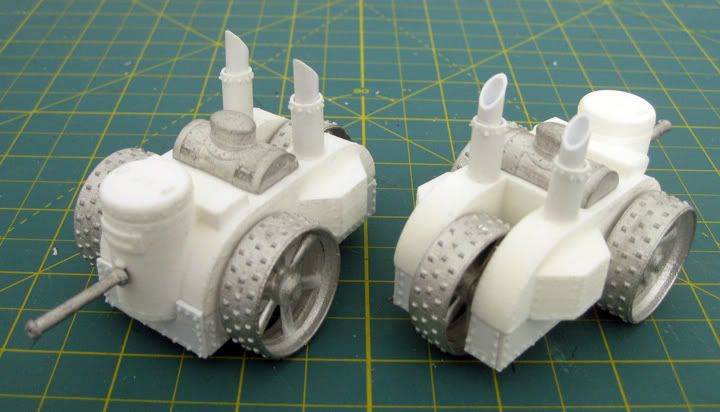 I made these from the RAFM Cyclopse Land Wheeler
I saw a similar conversion on
LAF
, and loved it, kept it in mind for mine.
I bulked it out by extending the under-carriage, since it looked a little slim and hard to imagine a Quar fitting inside it.
I also built new boiler exhausts, which freed up one of the metal smoke stacks to serve as a cannon!
All in all a simple and quick conversion.
Here is one standing ready with a Quar soldier.
I think this makes a nice light tank!
I think it has potential for 15mm service as well:
Here it is with a 15mm Draco and a GZG Bulldog. The tech is very anachronistic for sci-fi, but that's not a bad thing necessarily. In fact, I have a rather pulpy 'British Royal Lunar Marines' army planned that these might work very well for!