A quick update for a Blood Bowl tournament I wish I could go to,
The Eucalyptus Bowl
.
The amount of cool stuff they have for this event is amazing. From custom playing pitches, to scoreboards to the frill neck lizard 2013 special miniature.
I was quite lucky to be given a couple of the special miniatures before the event, and painted one and shipped him off to Australia, hoping the post gets him there in time, where he'll be a prize of some sort.
If I was wealthy I'd certainly have loved to have hand delivered it, and play in the event.
Well, maybe start saving and try for next year?
Here is the miniature:
I decided to interpret the dagger as made from a large reptile's tooth, rather than a metal dagger, but it could be done either way.
The Miniature actually comes with 4 different choices for the head, and 4 different arm choices!
The organizer requested that I use this head & arm, making him a nice choice to represent the Lizardman Team star 'Hemlock' who has the ability 'stab'.
Here are some other possible combinations: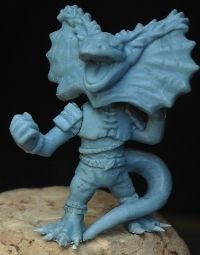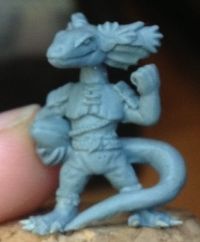 I just fell in love with this little lizard, he's just so cute!
It's hard to pick my favorite head & arm combination.
My copy will undoubtedly make his way as a skink star to the Skink Stunty team I'm making.
I hope everyone who is lucky enough to attend the Euc Bowl will have fun, and I'm very envious of you!