So looking at
Paul's Bods blog
, he's doing an 'A to Z' challenge sponsored by another blog, idea being to post once every day in April, other than Sundays, themed alphabetically. I always liked those kind of games when I was a kid in the car on road trips, like 'name locations starting with the letter of the last place's last letter (Egypt-Thailand-Denmark-Kuala Lumpur-etc) or Alphabetically name historical people, etc. So why not? A fun challenge and not very time consuming. I'll try to stick to hobby-related, but can't guarantee it. We'll just see how it goes.
So April 1st, let's start with A is for Alligator.
My favorite things I've painted so far in 2011 is my Alligator Blood Bowl Team.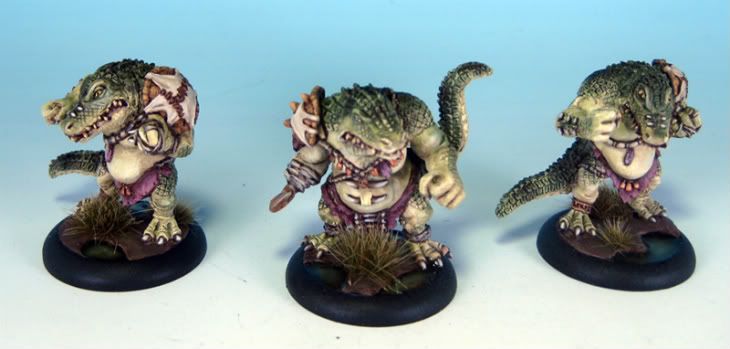 Team Name: Cletus Crudwater Revilers.
-name is a bit of a pun on CCR of course: Creedence Clearwater Revival.
When they hit the pitch the band plays 'Born on a Bayou'
.. I still need to add a cheerleader and name her 'Suzie Q'.
Here they are, beating the pulp out of the Lothern Lions... ah, memories.